Well… I don't know how I did it, but I did. I finished up yesterday's post and raced upstairs to take care of some "pirates" who were "sailing the 7 seas" instead of using their beds for sleeping. (I'm such a stick in the mud at 10:30 at night. LOL) Needless to say, it seems that post got saved as a draft and never published. Sorry about that!
Today, we all slept in! It was marvelous! Honestly, I wasn't out the door to walk the dog until 8:45AM – unreal! After the long walk, we went to the Farmer's Market for peaches and blueberries. Today was the first day they had "spartan" blueberries and we wanted to bring some home. Since we were getting to the market shortly after it opened (10) and with two hungry little people, we opted to eat there. Sadly, for me, that meant the main portion of my meal was a naked bratwurst. Not pictured? The fruit samples you get! (Kids get free apples too.) We had samples of nectarines (3 varieties), cherries, peaches (2 varieties), melons, blueberries and raspberries. We ended up bringing home blueberries, peaches, nectarines, cherries, Rainier cherries, eggs, and raspberries.
So trust me. Missing from my photos? Fruit! Apparently I had plenty of fruit today – but I didn't take any pictures. (I was too busy eating. LOL)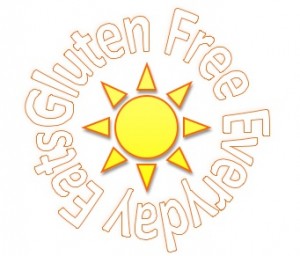 Brunch: A naked brat (i didn't eat the sauerkraut nor grilled onions on my plate….blech..not for me) and raspberry lemonade. NOT PICTURED: fruit samples and 1/4 of an apple from the girls.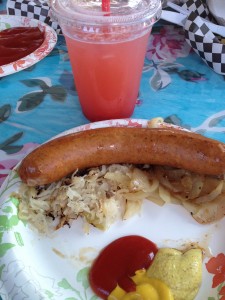 Dinner: Rice cooker Rice & Veggies. (I washed two cups of jasmine rice, added enough chicken broth to cook it. I chopped up 4 cups+ of seasoned raw veggies (garlic, onion, broccoli, carrots, asparagus, etc) on top. Mixed sausage bites into the veggies. Seasoned it all (soy sauce, sake, garlic, salt/pepper, sesame oil) and dumped it on top of the rice. Put the cooker on (regular rice) and tah-dah! Dinner!) Served with fresh fruit (cantaloupe, raspberries, blueberries, peaches and watermelon) and water.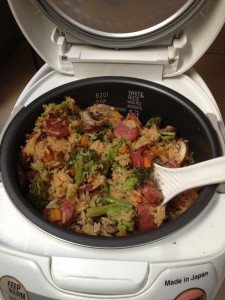 I love using my rice cooker when it is hot outside. I think I will try this again – maybe add the veggies with the timer starts (like with 10 minutes remaining) but add the meat to the rice from the beginning. The veggies were a tad overcooked (well..okay… more than a tad…) but they were still tasty! I had a huge helping and my honey polished it off (!!!!!).
Hope you all had a lovely Saturday!
-Kate