Day 2
(If you are wondering what is going on… please read this post.)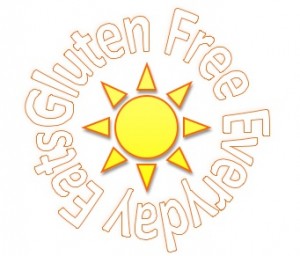 Man! I was busy today – just running around with the girls. In fact, I was so wiped out, I fell asleep putting them to bed. (Surely I am not the only mom who does this, right?) 😀
Here are my meals for the day:
Breakfast: Rudi's tortilla's with egg, sea salt and cracked pepper (cooked egg on top of tortilla in a pan, top like a quesadilla, flip), some cherries and coffee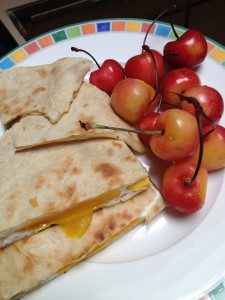 Lunch: A lunch pizza (Glutino crust (thawed), in a pan topped with fresh garlic oil, a couple slices of turkey, egg, and feta cheese = baked then topped with seaweed (sesame seaweed). Served with cantaloupe. (PS. While my husband wrinkled his nose at the mere thought of seaweed on my pizza, he had no trouble eating 2 slices. LOL) Water to drink.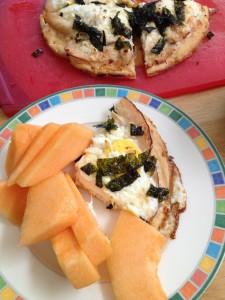 Dinner: Rosemary-oil grilled chicken, honey & thyme quinoa, fresh spinach salad with homemade strawberry-balsamic dressing and watermelon. Water to drink.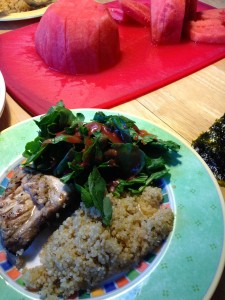 Tomorrow will be interesting to see what I end up eating. My post will be late. Not only do we have a morning playdate out of the house (with lunch, most likely, on the go as well) but we are going to a friend's house for a 4th of July Fireworks buffet. I'm sure I will eat more than my share, but yes, it will be challenging. And yet, it is totally doable. Just wait and see.
And you? What did you eat today?
Hasta mañana – and until then – Happy Gluten Free Eats, everyone!
-Kate