So today I was at least with it enough to take pictures. My lunch today was the same kind of thing as yesterday – grits/polenta made in the rice cooker while we were out today. Unfortunately, today they came out a bit lumpier than yesterday. Giving it a good mix and stir for a while broke up most of the lumps, but not all. Ah well, good thing it was just food for me and not for guests. 😀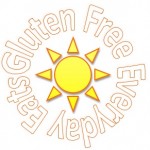 Breakfast: a banana and a glass of water on the way out the door.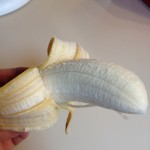 Lunch: rice-cooker grits with some leftover Italian turkey sausage. Water to drink.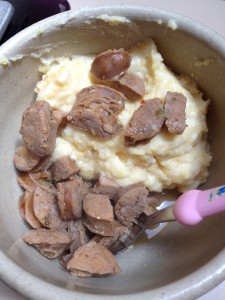 Dinner: Baked eggplant (I ate eggplant!!), shredded romaine lettuce and a half of a grilled chicken breast. Dressing: fig balsamic vinegar and a splash of olive oil.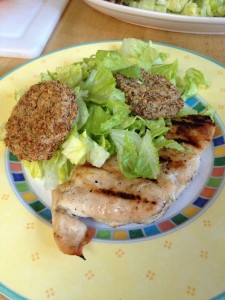 I've only eaten eggplant a few times before. Mainly when we hosted an exchange student from Turkey. She will agree with me when I say: she can NOT cook. Ha! Sadly, she was also my main eat-eggplant pusher and it kind of turned me off for a while. I made these baked eggplant pieces by peeling it, slicing them (1/2 inch or so), dredging them in seasoned flour, then egg wash, and finally tossed in seasoned gluten free bread crumbs. It was tasty! Thank goodness for loaves of bread that I can't finish. They make great bread crumbs. 😀
Enjoy you Wednesday!
-Kate