What is happening to me? I have developed the exhausted version of myself in the end of July? Not good! Time for some R & R – although I think that might just happen late next week as now we have some more OT/PT appointments this week for Zoe. The good news is: We are doing all that we can to make sure she is ready to go for Kindergarten this fall. She's so excited!
So excited, in fact, that she's been announcing that as soon as Kindergarten is over, I should "get ready" because she will be "off for college then, Mom". Egad! Please don't let time fly that quickly by.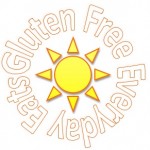 Day 29 –
Doctor appointments and craziness meant dinner out. My dinner picture includes a shot of the girls Tofu Agadashi (my order came without the broth as they used soy instead of tamari – rats!). It was still tasty. And I packed some small portable gluten free soy sauce packets in my purse, I was totally ready!
Breakfast: Turkey wrapped in a Rudi's tortilla. Coffee (aka "life blood")
Lunch: Recipe testing! I made a fresh loaf of a recipe I am working on (Quinoa & Honey – gluten free, of course). Made a sandwich….and forgot to take picture as we raced out the door to our PT appointment.
Dinner: Sushi! (I had tamage, spicy scallop handroll, California handroll and some agadashi todu (minus the agadashi…LOL) This photo shows the agadashi tofu that the girls ate. Yum!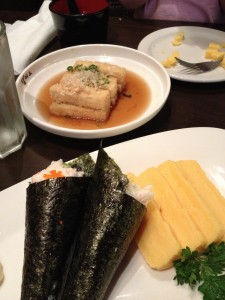 Day 30
Breakfast: Did I eat breakfast? Ha! That would explain why I devoured lunch! No breakfast!
Lunch: Shared an Udi's Uncured Pepperoni Pizza. Water.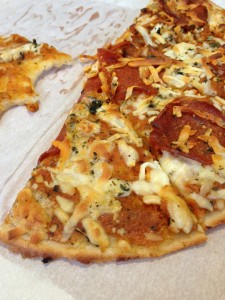 Dinner: Spaghetti (Jovial pasta, Marinara sauce, ground beef), grapes, muskmelon. Water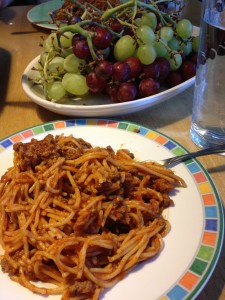 Today is the last day of this adventure. I'm learning a lot about my own eating patterns. I can see where I could improve. Overall, doing this has made me seriously curious about what others are eating everyday. Bloggers tend to post something that strikes us or hits our fancy. I tend to post when I can – but usually after working on a recipe of sorts.
My current recipe endeavor – the perfect quinoa & honey loaf – is off to a great start. Now just need more testers! I wish you all lived closer. Save me some calories and give me some input! 😀
–Kate