Today was a mellow day. We had our 4th of July party/fireworks/fandango yesterday. Today we ran errands and hung out with the girls. Trust me… they needed it! The little beasties darlings were sleep-deprived from our festivities yesterday. 😀
Since we were at home all together, the usual request of pancakes came about. After which we went to the Farmer's Market and completed a few other errands. I didn't eat much today – I was honestly not very hungry and then after breakfast of pancakes? Yeah… I was done until dinner at 6:30. (Save for water and coffee.)
All of the international readers should probably NOT look here for tips on what a Gluten Free Fourth of July (Independence Day) meal would look like. 😀 But do check here. My dinner was at that party.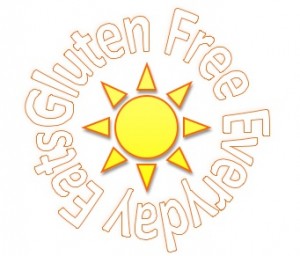 Breakfast: Gluten Free pancakes (almond and vanilla), watermelon, apple, water and coffee.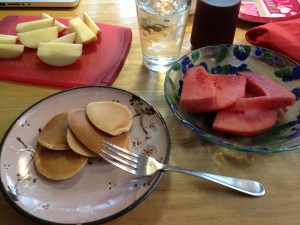 Lunch: Skipped. (We ate breakfast late – 9:30-10:00) I had a water while we shopped at the Farmer's Market.
Snack: Fresh peach from the Farmer's Market. YUM! I love summer if only for the fruit. Can't wait until the blueberries show up!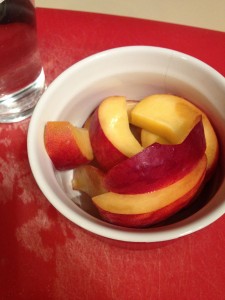 Dinner: Delivery! Gluten Free Pizza – Sausage. Water.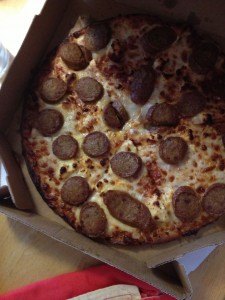 Many of you may have been out at BBQs or family parties…. or whatnot. What did you eat today? How did you manage the schedule/planning?
Happy 4th, everyone!
-Kate
PS. If you are planning a BBQ, years ago I invited my fellow bloggers to complete an Alphabetical BBQ of Gluten Free Food offerings. Check out this post for their ides/recipe links.