Have I really been doing this for 5 days already? Amazing. I have gotten some happy feedback via email for this effort. Thank you for that. My working parent blogging absence has been hard for some, but it is nice to be back and have the time to write/communicate more.
A question raised as well in the email responses was this:
Quinoa is a protein, right?
So should I be serving it instead of having a meat or fish?
I have been adding it to my meals like a side-dish, like rice, etc?
You know what? That's usually how we enjoy quinoa too: as an accompaniment for a meat. I will ask Cheryl what role quinoa should be playing. I'll let you know what she says.
As far as my days of photographing food has been, this one has been interesting and better. I'm not running for the phone to snap a photo – I'm remembering! LOL. And taking pictures of my lunch today brought about conversation….LOL. The girls and I went to Costco today to get the necessary things for the house. Since we were there at lunch time, my choices included (1) feed them there and make for happy campers or (2) feed them later (after errands) and set them up for a tough afternoon. My littlest one has been having a tough adjustment since the party on the 3rd. I didn't want to set her up for a bad afternoon. (She's my protein-every-3-hours or she's a beast, kid. Yes. Like me. LOL) So, we ate at Costco. I am fairly certain I am the only person on the planet to snap a photo of their bare-naked Costco polish with ketchup and mustard. Awkward, but hey! I remembered!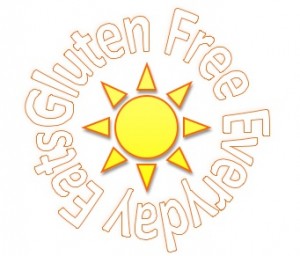 Breakfast: Celery, peanut butter and a banana. Coffee to drink. (Man, I love crisp celery with peanut butter! I am the only one in the house who likes celery, so I don't buy it all that often. But yum!)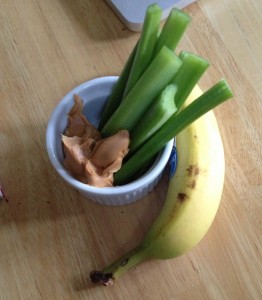 Lunch: My "naked" (no bun) polish sausage (mustard/ketchup) and water.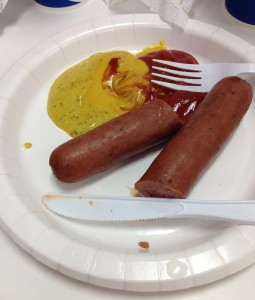 Snack: After Costco, our last stop was picking up a flat of fresh strawberries and another of raspberries. No better snack that eating a ton of berries after had just a polish sausage for lunch. As you can see, I had help. They each pulled up a chair to their favorite berry and polished off a pint of each. (Now you know why I bought 2 flats. LOL)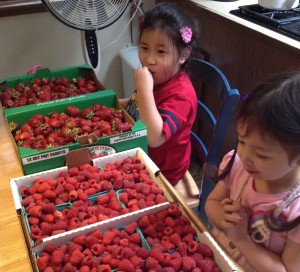 Dinner: Cuban-style baby back ribs (no sauce… just awesome seasoning), potato salad, 4 bean salad, and more berries. Water to drink.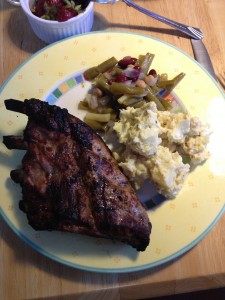 Dessert: A gluten-free ice cream sandwich. I probably should not have eaten this. However, I *did* walk the dog an extra mile today for a grand total of 4 miles with the dog. That counts, right?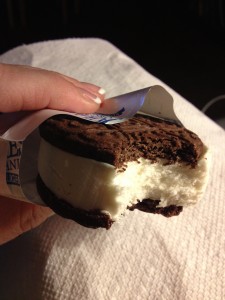 What did you eat today?
Hope you gluten-free goodies were tasty and satisfying!
-Kate
PS. If you want to know more about this series of posts, read this.
PPS. If you want to see more of my "Gluten Free Everyday Eats" daily posts, scroll through these posts (oldest listed first)