Well… I'm posting this on the morning of Day 10. I knew this would happen at some point. The littlest peanut just about drove me up a wall yesterday and now I know why: she's sick. Poor thing. I read their new book to them ("Listen Buddy" – the story of why listening is important because…well…one of them could use the lesson. LOL) and then I promptly fell asleep with the girls. Lights out. 9:45PM. Yes, I am a party animal. 😀
Yesterday we stuffed ourselves silly. I also ordered some of that granola that I mentioned on Day 8. Apparently polishing off what I had on hand was not enough when you wake up and you are still thinking about it. LOL
It was an average day. Nothing to wax poetic about but we did end up eating out last night. Our hair cuts took a little longer because I asked for the stylist to please try to cover my "Elvira gray patch/streaks" otherwise known as "kid-scars". 😀 As a result, I spent more money than I had originally planned, but I'm also happier with my new haircut and coloring. The girls both got their hair cut (5 inches off for Zoe and 3 inches off for Rory) as did My Love. It was a family affair because that was the only time available. Next time, we are not going as a group. The kids have to wait far too long (thus my gray hair).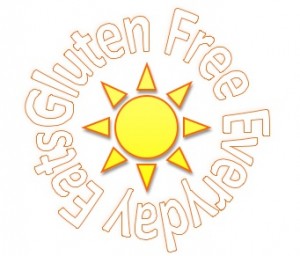 Anywho…here's what was on the menu for yesterday:
Breakfast: 2 eggs scrambled with parmesan cheese and garlic, a handful of gluten free crackers, a large serving of cut cantaloupe and a banana. And yes, coffee.
Lunch: Leftovers from the Thai restaurant (no rice..the kids gobbled that up!), a white peach and water.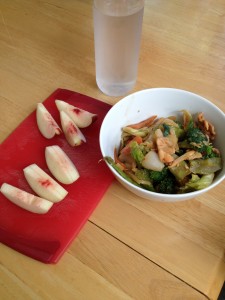 Dinner: (Oh my… let's see….) An overly dressed Caesar Salad (sans croutons), gluten free "flatbread" (really just a gf pizza crust brushed with garlic oil) with marinara sauce (the kids at this mostly), and 3 slices of sausage and extra cheese pizza. Water to drink.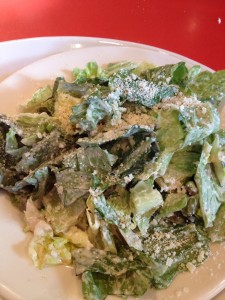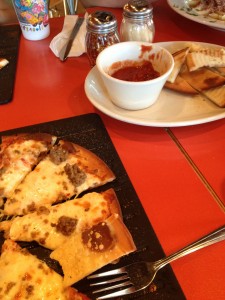 And today? Well…so far it's Chex Cinnamon cereal (to die for…but it has a downside too for me…more on that tonight) and coffee.
Hope your day is starting off marvelously! I'm off to care for the munchkins.
-Kate