Just like mom makes.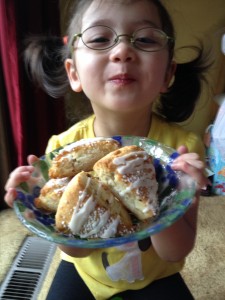 Well, I hope.  I have actually never tasted my mom's scones as they entered her repertoire after I was diagnosed with Celiac Disease.  And I usually don't post recipes that I haven't made many times, but this recipe is hers – save for the gluten free conversion.  I trust it.
The gluten free version (bellow) is a bit heavier and biscuit like than I remember scones to be and it should be eaten warm.   We made some last night and I reheated them briefly this morning for breakfast and they were still tasty.  Fresh is best, but reheated is delicious too.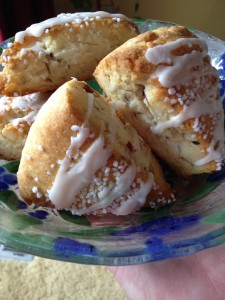 So far we've made vanilla bean scones and the ones pictured above are Coconut-Almond scones (or "Grammy Cones" as my youngest thinks they are called).  Next up?  Cranberry!  I'm thinking some dried cranberries and maybe even a handful of white chocolate chips?   Ro – my youngest daughter – likes to cook and baking is new.  She says she "isn't patient enough" to wait for things to get out of the oven.  (Ha!)  These, however, have made her curious.  Tonight she told me she wants to try pumpkin "grammy cones".  Guess we will toss in some pepitas or maybe stir in some pureed pumpkin.  So many options… so many summer days to explore new ideas.
Ah…. it feels so good to be on 'vacation" right now.  This last school year just about wiped me out.  😀
Gluten Free Scones (Almond and Coconut)

Print recipe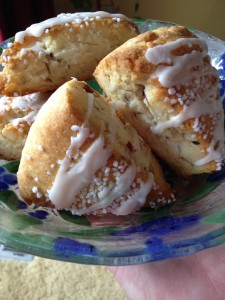 Ingredients
2 cups gluten free flour mix
2 tablespoons sugar
1 teaspoon baking soda
1 teaspoon baking powder
1 teaspoon cream of tartar
1/2 teaspoon salt
1/2 cup coconut oil
1/2 cup milk
3 tablespoons almond glaze (see recipe notes)
Optional
1 teaspoon almond extract
1/2 cup sliced almonds
2 heaped tablespoons Swedish Pearl Sugar
Directions
| | | |
| --- | --- | --- |
| Step 1 | | Preheat oven to 400F |
| Step 2 | | Mix together dry ingredients: gluten free flour, sugar, baking soda, baking powder, cream of tartar, salt and sliced almonds. |
| Step 3 | | Cut in coconut oil until no large pieces remain (pea size or smaller) |
| Step 4 | | Add milk and mix until dough comes together. |
| Step 5 | | Scrape bowl together and gently shape with your hands into a disc that is about 1.5 inches thick (and about 8-9 inches in diameter). Top with Swedish Pearl Sugar, if using. Cut disc into 8 pieces (like a pizza). |
| Step 6 | | Carefully separate the 8 pieces and gently place them on parchment paper on a baking pan. |
| Step 7 | | Bake for 9-12 minutes until golden brown on the edges and top. |
| Step 8 | | Remove from oven and drizzle with almond glaze if using. Serve warm immediately. Without the glaze, serve warm with butter and jam. |
Note
We finished the scones with a light almond glaze (butter, powdered sugar, milk and a hint of almond extract).   The glaze was made by melting a bit (1 tsp) of butter, 1/2 teaspoon of almond extract, adding a teaspoon of milk and stirring in powdered sugar until it formed a glaze consistency.
Enjoy!
-Kate and family