Gluten Free Potstickers?  Yes, please!
Peach-Mango White Wine Sangria?  Bring it on!
NOTICE:  I was contacted by a marketing company for Al Fresco (gluten free sausages, etc) and Columbia Crest wines to create a recipe using Al Fresco meat and pairing it with Columbia Crest wine..  They sent me wine, coupons (2) for al fresco products, and some "entertainment" things (a trivet, spatual, grilling brush, wine opener and bottle stopper) in exchange for a post about wine matching that used Al Fresco gluten free meats.  The recipe is purely mine as are the opinions that follows.  I was not paid but rather was gifted the products and "entertainment" items for my time.
…………………………………………………………
I thought this summer would be lost of leisurely time to do things like, you know, clean our our closets and get rid of stuff stuff STUFF that seems to be everywhere!  It has been filled with work – but not what I anticipated.  More often than not since the weather has gotten HOT, we've been seeking easy dinners.  Without air conditioning and living someplace where the hottest time of day is *just when* you want to start cooking dinner, it's been a struggle.  I hate HOT and the house has been hovering around 86F at 5PM.  The thought of hanging out by the stove or turning on the oven just makes me ill at that time of day.  You can usually find us out on the deck grilling….. that was until we ripped the deck off the back of the house.  Oh yes.  We've been doing work (!) this summer.  I've spent more time at Home Deport (and more money!) in the last two weeks than I have in the last thirteen years.  Ha!
The Al Fresco meats that we've found have been delicious so I was quite happy to participate in a little wine pairing/recipe making.  We typically grill the meat with tons of red/orange/yellow/green bell peppers and then chop it all up and toss it into some quinoa with a dressing.  It's delicious!  But this time, the coupons and recipe challenge arrived in the middle of our "empanada" vs. "potsticker" debate – as in which one would you rather (1) make and (2) eat?   Potstickers win every time in this house.  Empanadas are a close second with only two of us voting.  If the girls voted, we'd be eating cheeseburgers or sushi every night.  Ha!
And while the wine they sent (4 bottles!) was about the same amount of wine as we buy in two years, it was fun to taste and try.  The wine was delicious and quite easy to pair.  We chose the Columbia Crest Unoaked Chardonnay for our pairing as it fit perfectly with our plan:  White Wine Sangria!  The wine by itself is super smooth, light and with a hint of citrus, so it was lovely with peaches and mango for a sangria.
If you haven't tried to make a gluten free potsticker before, never fear!  We've been making them since 2008 – and while we don't make them as often any more, it isn't as giant of an undertaking as you might think.  All in all, our dinner from scratch was ready in an hour.  That is how long it took the two of us to make the potstickers, salad, plate it and sit down for dinner.  It would have taken a little longer had I been flying solo in the kitchen.  Or better, I would have just shaved the brussel sprouts earlier!  (I'm a bit of a last minute Nelly on the salad making lately.)
The only thing missing from our meal tonight was a fabulous outdoor setting with a cool evening.  But until our backyard is put back together, this is not an option.  Maybe the sangria and potsticker fuel will help us get even more accomplished on our major yard projects tomorrow!
Our Friday Night Menu:
Shaved Brussel Sprout Salad with Rainier Cherries and Almonds
Sliced peaches and mangos
Chicken Potstickers (*al fresco Italian Chicken Sausage)
White Wine Peach-Mango Sangria (*Columbia Crest Chardonnay)
So let's get to the recipes!
Gluten Free Potstickers

Print recipe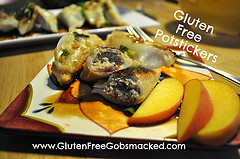 Ingredients
1 cup rice flour (Potsticker dough ingredient)
1/3 cup sweet rice flour (Potsticker dough ingredient)
1/3 cup tapioca starch/tapioca starch flour (Potsticker dough ingredient)
1/3 cup cornstarch (Potsticker dough ingredient)
1 teaspoon xanthan gum (Potsticker dough ingredient)
1 teaspoon gelatin (Potsticker dough ingredient)
1/2 teaspoon salt (Potsticker dough ingredient)
2 eggs (Potsticker dough ingredient & Filling)
2/3+ cups cold water (Potsticker dough ingredient)
1 teaspoon olive oil (Potsticker dough ingredient)
2-3 al fresco Italian Chicken Sausage links (Filling)
1/3 cup sweet onion, minced (Filling)
6 cloves garlic, minced (Filling & Dipping Sauce)
1.5 " knob of fresh ginger, minced (Filling & Dipping Sauce)
2 teaspoons sesame oil (Filling)
3 tablespoons rice wine vinegar (Dipping Sauce)
1/4 cup gluten free soy sauce/tamari (Dipping Sauce)
1.5 teaspoons sugar (Dipping Sauce)
Directions
Filling
Step 1
MAKE YOUR FILLING: In the bowl of your food processor, drop 5 cloves of garlic, a knob of ginger (reserve the remaining garlic and ginger for your dipping sauce) and the onion, Pulse until well minced together. Add 2-3 al fresco Italian Sausage links and pulse again. You can continue pulsing until the ingredients are broken down together. Scrape into a bowl. Mix in sesame oil and one egg.
Dough
Step 2
MAKE YOUR POTSTICKER DOUGH: In the (clean) bowl of your food processor, mix together your dry ingredients for the dough (rice flour, sweet rice flour, tapioca starch, corn starch, xanthan gum, gelatin, and salt). Blend the egg into 1/2 cup cold water. Drizzle the cold water/egg into the whirring food processor. Pulse until the dough comes together. Add reserved water and olive oil until you have a pliable, non-sticky dough that you can form into a ball. If it is not pliable, add a teaspoon of water at a time. If it is sticky, add a Tablespoon of tapioca starch at a time until you achieve a pliable, non-sticky ball. Cover with a damp/wet paper towel and set aside.
Step 3
MAKE THE POTSTICKERS: Separate a handful of dough and leave the rest covered with a damp/wet paper towel while working. Roll the dough out to 1/8-1/4" thickness. (I prefer to do this between two sheets of parchment paper to avoid any accidental sticking.) Cut with a 3.5 inch biscuit round cutter (or the lip of a round drinking glass). Peel off the not cut parts to roll again and fill each of your circles with a teaspoon + of your filling. (Don't try to overfill your potstickers or they will explode while cooking.) Fold the circle in half and pinch/twist the edges as you go to crimp them together well. Set the potstickers aside on a separate plate and continue to roll out dough/fill/crimp until you have finished with your dough. (We make about 18 potstickers with this dough recipe but this will vary depending on the size or your circles/cuts.)
Step 4
COOK YOUR POTSTICKERS: Pour 1 1/2 cups of water into a fry pan and bring to a boil. Add your potstickers (cook in batches). The water should just barely cover them. Boil the potstickers to cook the dough about 5 -8 minutes depending on the thickness of your dough. Take one out and cut it/taste it to test. Strain out the potstickers and pour the water out of the pan. Return the pan to the stove and heat it up high. Drizzle a bit of olive oil into the pan and place the potstickers in the pan to brown. Allow to brown/crisp up along on side (or two, if you prefer) for at least 5 minutes, checking for doneness. Potstickers are done when golden and crispy on the outside.
Dipping Sauce
Step 5
MAKE YOUR DIPPING SAUCE: In a small saucepan, add a drizzle of olive oil over medium-high heat. Scrape in the reserved minced garlic and ginger. Stir until aromatic 1-2 minutes (or less!). Add your vinegar and soy sauce. Add a teaspoon of sugar. Taste. Heat thoroughly. Remove from heat and either drizzle over the potstickers or place in a dipping bowl with the potstickers/family style.
Peach-Mango White Wine Sangria

Print recipe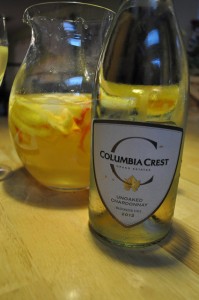 Ingredients
1 bottle Columbia Crest UnOaked Chardonnay or other white wine
1/3 cup sugar
1 large fresh peach, sliced thin
1 ripe mango, slice thin
2 tablespoons Grand Marnier (optional)
1-2 cup Club Soda (optional)
Directions
| | | |
| --- | --- | --- |
| Step 1 | | Mix together fruit, sugar, wine and Grand Marnier. Put into fridge to allow fruit to soak for several hours. When ready to serve, add 1 cup (or more, to taste) of club soda and some ice cubes. (The club soda lightens the sangria considerably.) |
And now a giveaway – I have a Grand Prize and 5 coupons for Runner Ups!
The Grand Prize Winner will receive:  (2) al fresco free item coupons, a lovely wooden trivet/spatula set, a grilling brush and a wine opener/stopper from Columbia Crest.
Five Runner Ups will each receive a free product coupon (1 each) for an al fresco product.
Good luck!
a Rafflecopter giveaway