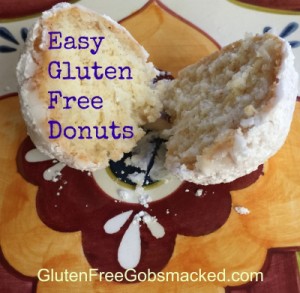 I have a little one who is in love with donuts.  I honestly don't make them because well… I eat them too.  😀   Add that to the fact that I like the buttermilk fried ones, and it doesn't help.  Nothing like kitchen clean up than frying stuff in oil.  Blech.
However, it has also been a good 6+ years since I made or ate a donut.  And for some reason, today was the day to brush off an old recipe and go to town.  I fried these donut holes in coconut oil (about an inch of oil in my tallest most narrow pan thus hopefully using less oil…ha!) which made them have a yummy coconut crisp edge that has made them even better than before. (Previously I would cook up a batch in Rice Bran Oil or Canola oil.)
My little one helped me shake the drained and cooled donuts in a bag of powdered sugar.  I tried to convince her that a glaze or even cinnamon sugar would be tasty but nope, powdered sugar.  She says it is like eating "sweet snow".  (Clearly we don't live where it snows often even for my 5 year old to know what snow would taste like.  Ha!)  While I don't often rely on her taste buds as my tester, since this one is (a) fried in coconut oil, (b) called a donut and (c) coated in sugar, she was easy to please.
I love these.  Oh – and by the way, sealed in an airtight container and stored on the counter top, they are just as tasty the next day.  While I reheat mine a bit in the microwave because I've always like warm donuts, my DH says they are the same texture as donuts from the grocer on day two  – like dense buttermilk donuts.  Which works for me!  😀
Enjoy!
Kate
Easy Gluten Free Donuts

Print recipe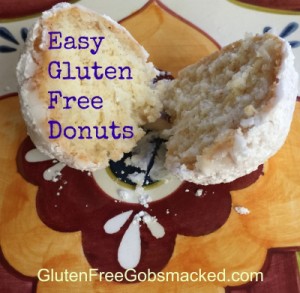 Ingredients
3 tablespoons butter, melted
1/3 cup milk
1 Large egg
1/4 cup 2% Greek Yogurt, Plain (Fage) (2 ounces)
3 1/2 tablespoons sugar
1/2 teaspoon ground cinnamon
1/2 teaspoon ground nutmeg
1/2 teaspoon salt
1 1/2 tablespoon baking powder
1 1/2 teaspoon xanthan gum
1 1/2 cup gluten free flour blend
Directions
| | | |
| --- | --- | --- |
| Step 1 | | Melt butter. Add milk and yogurt to butter. Stir. Add the egg. Mix again. |
| Step 2 | | Add all dry ingredients (sugar, cinnamon, nutmeg, salt, baking powder, xanthan gum and gluten free flour blend) and mix thoroughly. Dough will become a soft pliable, non-sticky dough (much like a soft play-doh texture). If it is sticky, add a Tablespoon of flour at a time until it is no longer sticky. If dry, add a Tablespoon of milk until the texture is smooth and pliable. (See the image for guidance.) |
| Step 3 | | Heat oil (at least one inch of depth) to sizzling. (About 360F). |
| Step 4 | | While the oil is heating, gently shape the donuts. (I like giant donut holes - about 1 1/2 or 2 inches in diameter). |
| Step 5 | | Fry the donuts in small batches on each side until golden brown - about 3-4 minutes per side. |
| Step 6 | | Remove with a slotted spoon and drain on paper towels. Once cool enough to touch, toss with your favorite covers (cinnamon sugar or powder sugar) or glaze to your liking. |