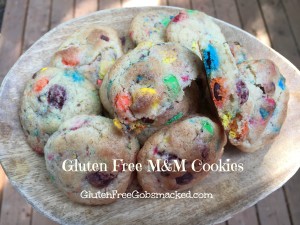 If I'm going to make donut holes for the little one, the older one is going to want a treat too, right? Fair is fair and since she is not a donut eater, she asked for M&M Cookies that we could share. Done.
These cookies were mixed and baked in under 35 minutes. She helped measure all the ingredients, mix and get them in the oven. M&Ms are gluten free (in the US) – but NOT the pretzel ones nor the Crispy ones. (Thanks for catching this, Shirley!)
. We used the regular M&Ms but the peanut M&Ms are yummy in this recipe too. Feel free to add whatever basic candy or nut that you would like to this basic cookie recipe in lieu of the M&Ms too, if you prefer.
Enjoy!
Kate & kids
Gluten Free M&M Cookies

Print recipe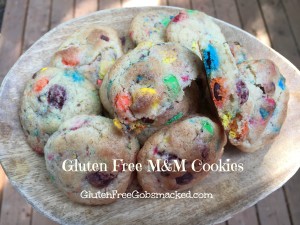 Yummy gluten free cookies - and an easy recipe that kids can follow too!
Ingredients
1 stick butter (8 Tablespoons)
6 tablespoons white sugar
6 tablespoons brown sugar (packed)
1 teaspoon vanilla extract
1 Large egg
1/2 teaspoon xanthan gum
1/2 teaspoon salt
1/2 teaspoon baking powder (Yes, I used powder and not soda)
1 cup GF Flour Mix PLUS 2 Tablespoons (1 cup + 2 Tablespoons TOTAL measure)
1 cup GF M&M candies (or chocolate chips, etc)
Directions
| | | |
| --- | --- | --- |
| Step 1 | | Cream together until fluffy: butter, white sugar and brown sugar. |
| Step 2 | | Mix in: vanilla extract and egg. |
| Step 3 | | Add dry ingredients: salt, baking powder, xanthan gum and GF flour. Mix well. |
| Step 4 | | Stir in 1 cup of M&M candies (Plain) |
| Step 5 | | Preheat oven to 350F. |
| Step 6 | | Line a cookie sheet with parchment paper. Place 1" balls of cookie dough about 3 inches apart. |
| Step 7 | | Bake for 9-12 minutes until the edges are golden brown and the tops begin to brown. NOTE: If you would like a flatter cookie, pull the cookie sheets out of the oven after about 4 minutes and "drop" (tap them firmly) on a heat-resistant surface (like the stove top) until the cookies deflate a bit. Then return the pan for the remainder of the cooking time. This will create a crunchier cookie. |