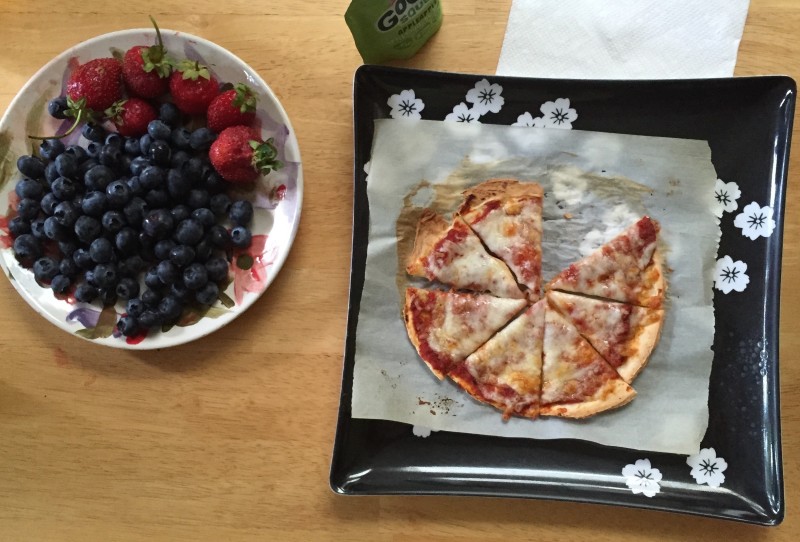 I used to think that I was a pizza fan.  Now with two kids, I know true pizza fans.  No matter how picky they are, my kids have decided (currently) that this is pizza the best.   I've been whipping up a batch of this pizza crust recipe with some homemade pizza sauce a few times this summer just to keep the fans happy.    This crust recipe easily makes one large pizza or 8-10 "personal" (salad plate size) pizza crusts.  I prebake them on parchment paper, cool them, and slide the crusts (on parchment still) into a freezer bag and freeze.  Then I take them out and heat them up, top and bake for 11-14 minutes.
I've even made a batch for a kid pizza party this summer.  Everything eaten at the party was gluten free – and NONE of the kids even suspected.  Sure made it easier for me to serve everyone.  The girls have two friends who are gluten free and we make every effort to keep them included in the fun.  It was so easy to just pull these out of the fridge (I made them the day before), along with the sauce and hit the road.  A girlfriend hosted the baking (she has air conditioning, and the other mom and I don't – LOL).  The other mom brought the toppings (cheese, etc) and we were set.  The kids all made their pizzas and while they baked, they played.  We chatted.  Eat. Chat. And continue on.  It was fun.
Here's the recipe I used to make the crusts:
Gluten Free Basic Pizza Crust

Print recipe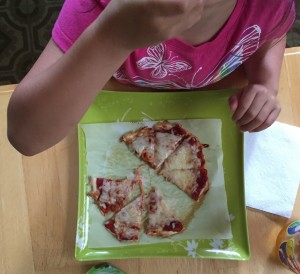 Ingredients
1 tablespoon yeast
1 2/3 cup GF flour blend (250g)
2 teaspoons xanthan gum
1 1/2 teaspoon gelatin
1 1/2 teaspoon salt
1 1/2 teaspoon olive oil
1 teaspoon honey
1-1 1/2 cup water
Directions
| | | |
| --- | --- | --- |
| Step 1 | | Mix together dry ingredients in medium-large mixing bowl. |
| Step 2 | | Mix together all wet ingredients in a large measuring cup. |
| Step 3 | | Add wet to dry. Mix thoroughly and then beat on high for 3 minutes. |
| Step 4 | | Use a wet spatula to smooth the pizza crust out into the desired size/shape *ON TO PARCHMENT PAPER* (to make it non-stick). |
| Step 5 | | Bake at 350F until the top is dry and edges are slightly golden. (About 9-12 minutes, depending on your crust size and thickness.) Don't over cook the edges too much or they will burn when you bake after topping the crusts. |
| Step 6 | | Remove. Allow to cool completely before storing in freezer bags or in the refrigerator (3-5 days) in an airtight container. -OR- top with your desired sauce/toppings and bake for 11-15 minutes until the cheese has melted and begun to brown. |
We also used this recipe to bake a "flatbread" with some olive oil brushed on top and sprinkled with sea salt.  The kids love dipping it in to the pizza sauce too.  Perfectly delicious.
Hope you are all well –
Kate